Bed & Breakfast Inn & Lodging in Beautiful Ogunquit Maine
The only Bed & Breakfast on the Marginal Way in Ogunquit Maine overlooking the Atlantic Ocean!
A turn of the nineteenth century shingle style cottage built in 1899 by the Stearns family of Cincinnati, this Ogunquit ME Bed & Breakfast with commanding views of the Atlantic, sits midway along the Marginal Way, a 1.7 mile long beautiful oceanside footpath from Ogunquit Village to Perkins Cove, but in a quiet highly residential area. You can hear the surf crashing against the rocks from almost every room in Rockmere Bed & Breakfast.
The spacious grounds around this Ogunquit Bed & Breakfast Inn boast extensive flower gardens with fountains, a goldfish pond and statuary that reflect the way your hosts imagine Rockmere Bed & Breakfast, an Ogunquit ME B&B, would have looked at the turn of the nineteenth century. You are invited to stroll the grounds, bask in the sun, enjoy the cool sea breeze in our screen enclosed Gazebo and patio overlooking the water or find a quiet spot to relax and catch up on reading.
York County Bed & Breakfast Inn and Lodging
The sweeping veranda that wraps around the entire front of the house is graciously appointed with comfortable wicker furniture, making it an inviting place to sit and enjoy the ocean view, nap, read or meet new friends. Breakfast is served on the front porch in season and in the formal dining room in front of the fireplace during the off season. Some great conversation and new friends have been made during breakfast on the porch.
The interior of Rockmere Bed & Breakfast is constantly changing to give our guests a relaxing stay with us. Each room is individually decorated and differs from the next. See our gallery. Rockmere Bed & Breakfast offers unique Ogunquit Lodging Services such as our spacious living room open for your comfort and enjoyment. You are invited to relax here and, during the cooler months, bask in the heat of a crackling fire in front of our beautiful Italian tile fireplace. Also the Lookout on the third floor features some of the best views of the Atlantic around.
Rockmere Bed & Breakfast is like visiting good friends on the coast of Maine. Come feel the warmth and sounds and sights of the Marginal Way from your ocean view room. Our goal is to constantly make Rockmere Bed & Breakfast better each year. We welcome you to join our large family of repeat guests. We look forward to greeting you and making your visit to Rockmere Bed & Breakfast a vacation with wonderful memories spent at "A Beautiful Place by the Sea".
"Maine, Welcome Home."
Innkeeper Andy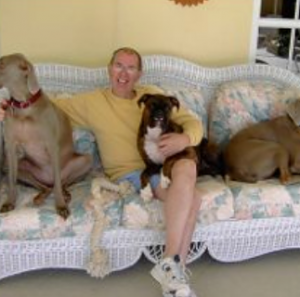 Andy grew up in Westchester County, New York where his family had a family compound. His early life took up most of his time caring for the flock of animals (horses, dogs, cats, pigeons, chickens, you name it) that he loved and treasured each day. He took to painting and was persuaded to enter a local art show where he took home a first place ribbon. His work is scattered around the U.S. He paints for fun and to pass the time away. His late mother became the first agent of his paintings. He also has done set design for the theater, the talent which he has used to decorate Rockmere Bed & Breakfast making each room different from the next. On some occasions you may bump into one of his well known theater friends at Rockmere Bed & Breakfast. He has also done a lot of store window dressing winning numerous awards. He has operated several collectible shops in Southern Connecticut and ran a mail order catalog. One of his special and major products was German Nutcrackers which made him the largest importer of them in the Northeast. He has even shipped them all over the world and even back to customers in Germany. His hobbies are vintage automobiles, reading (mysteries and autobiographies and anything that is printed), working in and designing Rockmere Bed & Breakfast gardens, collecting art, the proof being on all the walls in the Inn, antiques, also proof throughout the Lodge and his work with no kill animal shelters. But his pride and joy are his kids (four legged), Max and Tony, and the sweet, joyful memories of Gromit, Abbie, Moosie, Fritz, Cleo, and Gretchen, who have passed over the Rainbow Bridge. He loves spending as much time as possible with the kids and he enjoys introducing them to our guests. He also loves to sit and talk to our guests and tell the history about his love of Rockmere Bed & Breakfast. He has some good stories to tell you about his love of innkeeping. (But have plenty of time to spare! Ha! Ha!)